Failure is by default  •  Success is by design
MTM360 is the solution
MTM360 sparks communication about the foundational pillars of multi-generational success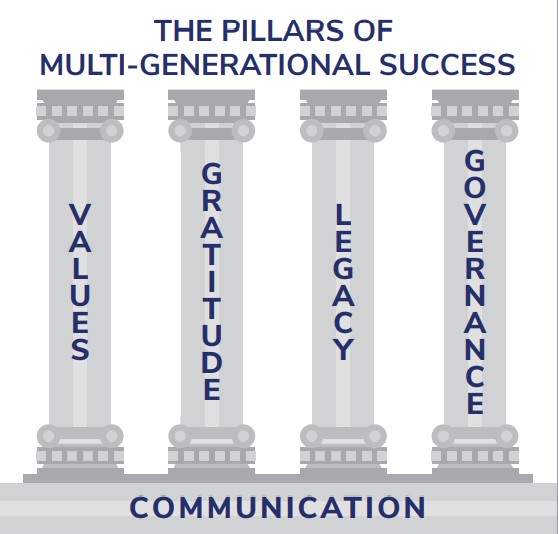 The Time-Tested MTM360 Approach
If you have an important meeting, at work or church, you typically prepare.
In five, 30-minute monthly Zoom meetings all participating family members will complete online exercises in preparation for your Family Forum.

The MTM360 Platform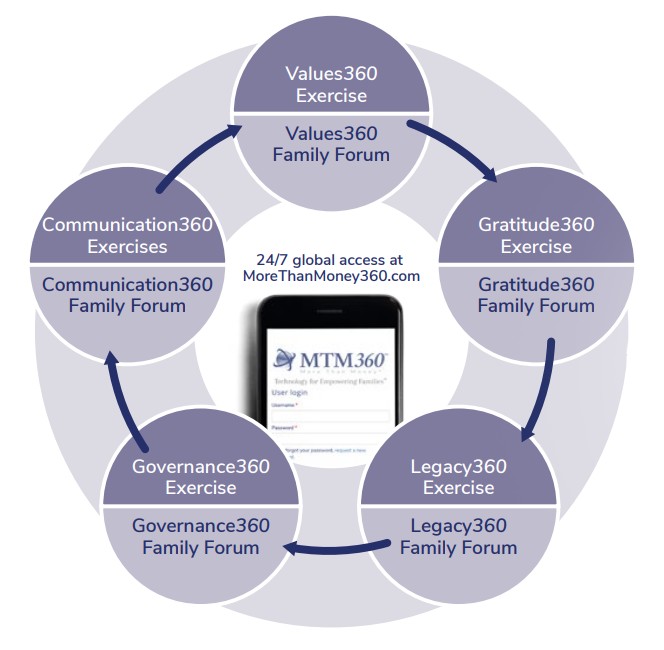 Communication360
Understanding individuals' unique styles
Tools for communication versatility
Elevate the clarity of family conversations
Learn the leaderships strengths of family members
Values360
Identify individual and shared family core values
Strengthen family unity
Establish a clear vision for your family
Write a statement about what matters most
Gratitude360
Define what gratitude means to you
Identify intangible talents to benefit philanthropic vision
Communicate "who" you give to and "why" it's important
Measure the impact of your philanthropy
Legacy360
What will the family be known for
Empower heirs
Integrate core values with existing professional plans
Write a shared legacy mission statement
Governance360
Identify family members leadership qualities
Spark communication about preferred roles for family members
Create structure for family members to participate in important decisions
Write a governing document with your family
Perpetuate360
Customized education on financial literacy, further charitable and governance endeavors, continue to improve family communication
The Family Forum
Through our monthly 30-minute Zoom meetings, each family member will have:
Clarity on the subject matter
Comfort in what to expect
Input into the agenda for the Family Forum
Understanding the importance and purpose of the Family Forum
Excitement to communicate about timely, important topics
What our Clients say about us
"I was skeptical at first of MTM360. After my second or third 30-minute consult, you can see the power and benefit of the process. The digital piece makes it really convenient and I see how these 30-minute meetings prepare us for a successful family meeting. The family meetings are amazing."
Max W.
"Love what MTM360 has done for our family. Much more connected as a unit, but it also allows Gen 2 to help ease the load on Gen 1. It's really cool to have all our 'MTM' stuff in one technology."
Geoff M.
"Extremely educational. Opened the doors of communication within the family and helped us focus on the big picture."
Kristin H.
"I had no idea what this process was when we started. After the first family meeting, it all came together for us as a group. Excited to see what comes next and to keep this ball rolling."
Elizabeth M.
"When I first started MTM360, I was blown away. Working together so closely with the entire family has been incredible. Engaging in this process has been a privilege."
Carly O.
"Learned a lot. Has increased the communication and connection within the family. MTM360 gave us the structure to gets this all going and continues to help us improve as a family."
Joey W.
"I saw the vision right away, but did not know 'how to' fulfill this vision. Now, we know how to do it and are well on our way."
Cathy O.
This all makes sense, but…
"We are really busy and travel a lot":
MTM360™ is completed in monthly 30 minute meetings, that's it:  30 minutes per month.
"It's really difficult to get us all in the same place":
The 30 minute meetings are done online, not in person, thus supporting geographically diverse and on the go families.
"It's all intangible, is there a deliverable?":
Yes, every step of the process will be protected in your centralized, organized and customized MTM360™ digital system.